It's that time of year when we look back on the past 12 months and take stock. With that in mind we invited Dr. Vincent van der Vinne, author of 'Investing in Cars,' to look back on what has been an exciting year for auction houses around the world.
To begin our look back at the year, let's start with a list of the most expensive classic cars sold at auction in 2017. In compiling this top 10 list, I've set some criteria. First of all, the list only includes cars that were actually sold at auction, so it does not include cars that were sold after an auction. This means that the Jaguar E-Type Lightweight ex-Team Cunningham, offered at auctioned by Bonhams in August is not in the top 10 – as the car was sold after the auction for $8 million. Also, for the purpose of this list, cars younger than 10 years of age are not included in the overview. This applies to the Ferrari LaFerrari Aperta that RM Sotheby's auctioned for more than $10 million in September. This car was also auctioned off for charity, which naturally had a significant impact on the hammer price. Below right is the top 10 of 2017:
Lees verder op de site van JBR Capital: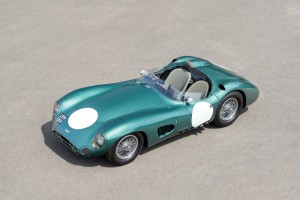 1956 Aston Martin DBR1. Geveild door RM Sotheby's in augustus 2017 voor 22.550.000 dollar / 17.514.500 pond. Foto Tim Scott, RM Sotheby's. Dit was de duurste auto die in 2017 is geveild.