In recent years there's been a marked trend with increased interest in 'young' Porsche models, with a significant number being snapped up at auction. These cars are much in demand and, thankfully for buyers, the market is serving that demand with plentiful supply. For example, in February 2017 the auction houses Artcurial, Bonhams and RM Sotheby's offered together a total 50 Porsches in the three auctions held in Paris. As a result of this burgeoning demand, the question asked by many collectors is whether the interest in young Porsches is sustainable.
Lees verder op de site van JBR Capital: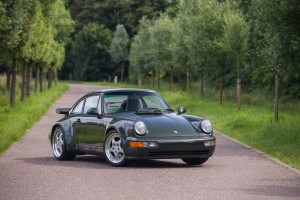 1993 Porsche 911 Turbo 3,6 Type 964. Geveild door Bonhams in September 2016 voor € 238.625 (£ 200.300). Foto Bonhams.